Basketball
Pro Basketball makes for an exciting time of year in the spring. Michael Jordan, Magic Johnson, Larry Bird, and Shaquille O'Neal have all contributed to the NBA being so popular with people of all walks of life. From the playgrounds of Brooklyn and Compton, to the suburbs of Chicago and San Antonio, basketball is here to stay.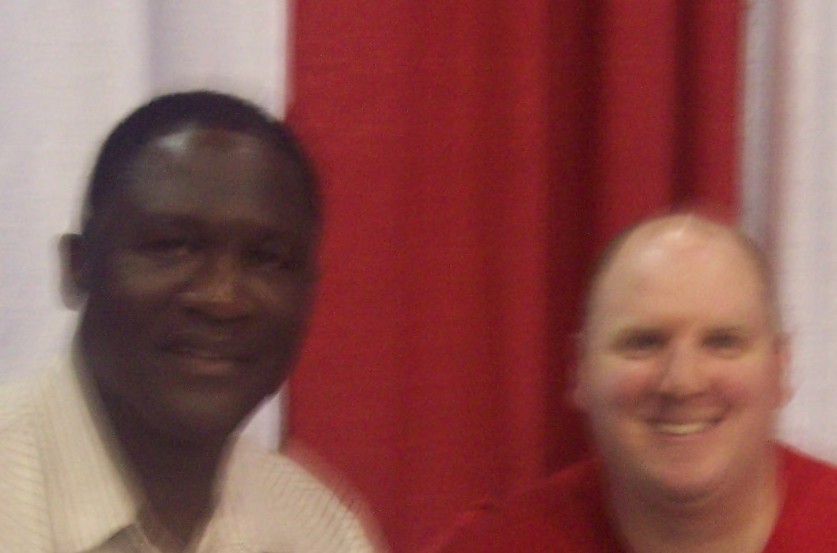 Dominique and me on June 7, 2008
Sorry that it's blurry!


The main reason I ever got into basketball was Dominique Wilkins.
He was not the passer that Magic Johnson was. He was not the shooter that Larry Bird was. He was not the all-around Superman that Michael Jordan was. But he was more exciting than any of them.
Ninth all time in scoring, 'Nique was the man worth paying to see. "The Human Highlight Film" had his number 21 retired on January 13, 2001 in front of almost 20,000 people including me. Except for baseball home run king Hank Aaron, 'Nique is the most beloved athlete in the history of Georgia.


Atlanta Hawks

World
Champions
Eastern
Conference
Champions
Central
Division
Champions
Retired
Numbers
1958
1957
1957
Lou Hudson
1958
1958
Bob Pettit
1960
1959
Dominique Wilkins
1961
1960
1961
1968
1970
1980
1987
1994
Team
Description

Western
Conference

Eastern
Conference

King of the Mountain

L.A. Lakers

Boston

Great Defenses, Boring To Watch, Lots of Winning

San Antonio

Detroit

Former Charles Barkley Team Full Of Runner-Up Seasons

Phoenix

Philadelphia

Teams With Superstars That Needed More Help

Houston

Atlanta

Glory Years In The 70's and 90's, Tortured By Jordan

Oklahoma City

New York

Superstar Shooting Guards, But Many Bad Years Too

Portland

Chicago

They Seem To Never Be Average

Sacramento

Indiana

Hall Of Fame Big Men & Point Guard Combo

Utah

Milwaukee

Mostly Bad In Multiple Cities

Golden State

Washington

Used To Be Ignored In A Football Town, Always Come Up Short

Denver

Cleveland

Billionaire Owners Looking To Buy Titles

Dallas

New Jersey

Always Seem To Be Starting Over

L.A. Clippers

Orlando

Might Have More Tradition If Not In A Football Town

New Orleans

Miami

The January Weather Is Better Than The Team

Minnesota

Toronto

Young But On Their Way

Memphis

Charlotte
2019 Postseason Predictions
2019 World Champions:

Favorite Player Ever: Dominique Wilkins
Most Hated Player Ever: Bill Laimbeer
Player I Would Pay Good Money To See In His Prime: Magic Johnson
Best Ever On Defense: Dennis Rodman
Best Ever Pure Shooter: Larry Bird
Player Who Made The Least Of His Talent: Derrick Coleman
Player Who Made The Most Of His Talent: Ben Wallace
Best Arena I Have Been To: Philips Arena
Most Supportive Fans (always show up): Utah Jazz
Least Supportive Fans (show up only when they win): Atlanta Hawks
Most Knowledgeable Fans: Boston Celtics
Least Knowledgeable Fans: Los Angeles Lakers
Best Uniforms: Los Angeles Lakers
Best Announcers: Marv Albert and Mike Fratello
Most Passionate Fans (show up and are vocal): Philadelphia 76ers
Least Passionate Fans (don't show up and don't care): Miami Heat
Ten Teams I Like (In Order): Atlanta, Phoenix, Utah, New York, Dallas, Houston, Minnesota, Milwaukee, Cleveland, Sacramento
Ten Teams That Are So-So (In Order): Los Angeles Lakers, Los Angeles Clippers, San Antonio, Memphis, Oklahoma City, Denver, Portland, Golden State, New Orleans, Charlotte
Ten Teams I Hate (In Order): Boston, Detroit, Indiana, Orlando, Miami, Chicago, Philadelphia, Brooklyn, Toronto, Washington


Attendance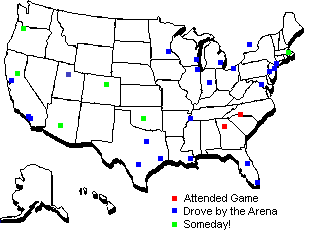 Ten Memorable Hawks Moments In Person




1. January 13, 2001 vs L.A. Clippers
Dominique Wilkins has his number retired and the Hawks get one of their few wins that year 108-88.


2. January 10, 1989 vs Chicago
Dominique had 28 for Atlanta but Michael Jordan scored 48 to help the Bulls win 104-101.


3. February 23, 1988 vs Indiana
My first visit to the old Omni. One play had Spud Webb bouncing the ball off the backboard and Wilkins slamming it home. Atlanta won 131-111.


4. December 18, 1999 vs Utah
Karl Malone and John Stockton came to town and beat the Hawks 106-96. It was my first visit to Philips Arena.


5. November 24, 1989 vs Houston (in Charlotte)
Hakeem Olajuwon was in town and so was I to see my sister run the next day. I saw one of the greatest centers ever and his Rockets won. Houston 85, Charlotte 81.


6. January 19, 1990 vs Chicago
Deja vu. Dominique had 26 but Michael Jordan scored 36 and Chicago won in Atlanta again 92-84.


7. November 26, 2003 vs Toronto
Vince Carter scored 43 as the Hawks lost in overtime.


8. March 11, 1988 vs New York
Patrick Ewing and Rick Pitino showed up but the Knicks weren't such a good team yet. Atlanta won 122-115.


9. March 7, 1991 vs Phoenix
Tom Chambers hit a 15-foot jumper from the left wing at the buzzer as the Suns stunned the Hawks 106-104. I didn't care for the result but it was a great game.


10. March 2, 2002 vs Cleveland
My girlfriend (now wife) had never been to a Hawks game before so we landed really good seats and saw the Hawks defeat the Cavs 84-81. Toni Kukoc hit four three-pointers in the third quarter.

Great Basketball Videos