Hockey
Hockey makes football players look like pansies. I first got into hockey in 1994 when the New York Rangers won their first Cup since 1940. I don't know enough about its history to come up with an all-time team. I am sad about the Thrashers' departure from the Deep South. Stay tuned as I try and figure out who to root for now...St. Louis I guess!

Favorite Player Ever: Mark Messier
Most Hated Player Ever: Claude Lemieux
Player I Would Pay Good Money To See In His Prime: Wayne Gretzky
Best Between The Pipes: Patrick Roy
Most Supportive Fans (always show up): Ottawa Senators
Least Supportive Fans (show up only when they win): Florida Panthers
Most Knowledgeable Fans: Detroit Red Wings
Least Knowledgeable Fans: Nashville Predators
Most Passionate Fans (show up and are vocal): Toronto Maple Leafs
Least Passionate Fans (don't show up and don't care): Florida Panthers
My Five Favorite Teams: St. Louis, New York Rangers, San Jose, Nashville, Boston
My Five Hated Teams: Colorado, Buffalo, New Jersey, Tampa Bay, Florida

2013 Postseason Predictions
Pittsburgh 4, New York Islanders 0
Montreal 4,Ottawa 2
New York Rangers 4, Washington 1
Boston 4, Toronto 1
Chicago 4, Minnesota 0
Anaheim 4, Detroit 1
Vancouver 4, San Jose 3
Los Angeles 4, St. Louis 2

Pittsburgh 4, New York Rangers 2
Boston 4, Montreal 3
Los Angeles 4, Chicago 3
Vancouver 4, Anaheim 2

Pittsburgh 4, Boston 2
Los Angeles 4, Vancouver 2

Pittsburgh 4, Los Angeles 2
2013 Stanley Cup Champions: Pittsburgh Penguins

Attendance
I would love to attend a home game for all 30 teams. I have made it to only one so far---Atlanta.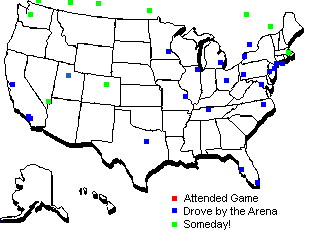 Team
Description

Western
Conference

Eastern
Conference

King of the Mountain

Detroit

Montreal

Rabid Fans That Hate The King

Chicago

Boston

Lots Of Winning, Lots Of Frustration

St. Louis

Toronto

Good Hockey Last 25 Years, Only One Cup

Calgary

N.Y. Rangers

Good Hockey Traditions In Football Towns

Dallas

Philadelphia

Solid Tradition, No Cups

Los Angeles

Buffalo

Off And On Success In Football Towns

Colorado

Pittsburgh

Glory Days Were The Eighties

Edmonton

NY Islanders

Some Winning, Lots Of Disappointment

Vancouver

Washington

Mix of Bad And Good

Phoenix

New Jersey

Born In The Nineties That Came So Close

San Jose

Ottawa

Warm Weather Moves But Still A Bad Team

Anaheim

Carolina

Might Have More Tradition If Not In A Football Town

Nashville

Florida

Good Hockey Fanbase, Not Much Winning

Minnesota

Tampa Bay

No Tradition And No Hope

Columbus

Winnipeg
Email Me!